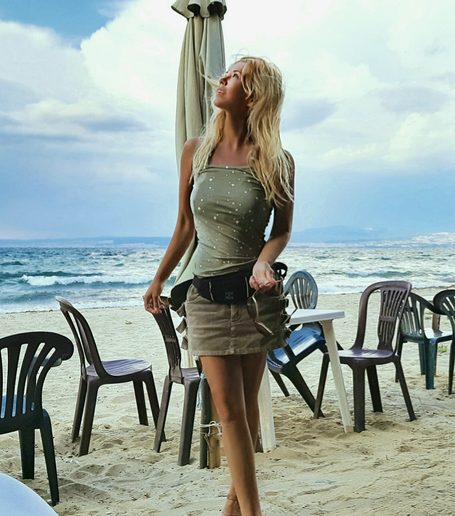 Annelie Jagenholz is a German artist, illustrator and designer. She was born in St. Petersburg and grew up in Germany. She has Russian and German roots.
She is interested in art and literature but refuses a concrete form. Style and shape are not important compared to the freedom to show an own inner cosmos.
Her main areas of work in art are paintings and drawings which based on an emotional expression with philosophical and social critical attributes. With different techniques in oil, acrylic, ink and charcoal she tries to show her own visions and motives. For this she put the ideas in "single darwings" or series (like the "Yellow series")
Next to such ideas she finds inspiration in the confrontation with the human body in different positions without clear anatomically details and more as a visible act to show the connection of body, mind and soul. The expression often includes restlessness and dark areas to embody the whole human being with abysses and the search of truth.
Behind the visible forms the drawings and paintings want show a spiritual way and context, inspired by the "philosophia perennis", by different integral attempts, the soul-body-problem, the immanent mind or transcendental levels. The artist doesn't believe in a material world without a deeper background. She believes in a connection between world and consciousness, between body and mind.
--------------------------------
Annelie Jagenholz ist eine deutsche Künstlerin, Illustratorin und Grafikerin. Sie wurde in St. Petersburg und ist in Deutschland aufgewachsen, hat russische und deutsche Wurzeln.
Ihre Hauptinteressen liegen im Bereich der Kunst und Literatur, wobei sie jedoch ablehnt, das Bild in eine bestimmte oder konkrete Form zu pressen. Stil und Form sind weniger wichtig als die Freiheit, den inneren Kosmos darzustellen.
Ihre Arbeit umfasst Malerei und Zeichnungen, die Ideen als Emotionen ins Bild setzen, wobei die meisten Themen philosophisch und gesellschaftskritisch sind. Mit unterschiedlichen Techniken in Öl, Acryl, Tusche und Zeichenkohle versucht sie ihre eigenen Visionen und Motive darzustellen. Das kann als Einzelformat Serie zum Ausdruck kommen, z. B. mit der "gelben Serie".
Neben diesen Ideen findet sie ihre Inspiration in der Konfrontation mit dem menschlichen Körper in verschiedenen Stadien, wobei nicht so sehr die klaren anatomischen Details von Bedeutung sind, sondern ein Sichtbarmachen der Verbindung zwischen Körper, Geist und Seele. Der künstlerische Ausdruck umfasst dabei auch häufig die menschliche Unruhe und düstere Ebenen, um die gesamte menschliche Existenz einzufangen, samt aller Abgründe und der Suche nach Wahrheit.
Ebenso sollen die Zeichnungen und Bilder den spirituellen Weg und Zusammenhang vermitteln. Die Inspiration kreist um die "ewige Philosophie", um verschiedene integrale Ansätze, das Seele-Körper-Problem, den immanenten Geist und die transzendenten Bereiche. Für die Künstlerin existiert keine rein materielle Welt ohne tieferen und durch den begrenzten Verstand nicht immer wahrnehmbaren Hintergrund. Sie glaubt an die Verbindung zwischen Welt und Bewusstsein, Körper und Geist.
(Mehr Autobiografisches an dieser Stelle!)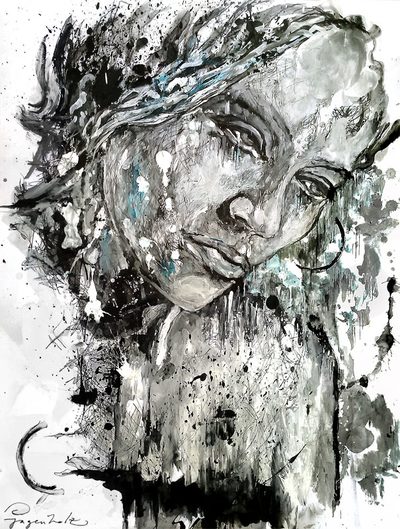 ---